CAFF: The Cultural Animation Film Festival
---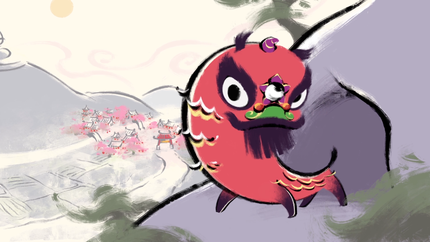 Kwan: the Chinese Lion
-
Chinese
Mr.T's shop accumulates negative 'chi' or energy over the year.
Kwan wakes during Chinese New Year celebrations and performs a traditional dance to ward of negative chi and any bad luck and blesses the shop keeper and his shop with good luck and good fortune!
Direction and Animation: Rosemary Fung
Rigging, FX and Compositing: Derek Lau
Produced by: Ching Tan and Amelinda Luu
Sound Design: Joel Pinteric
Music: Derek Lau and Rosemary
Additional music from Kevin McLeod
Length: 2:21 Minutes
​
Hawai'i Premiere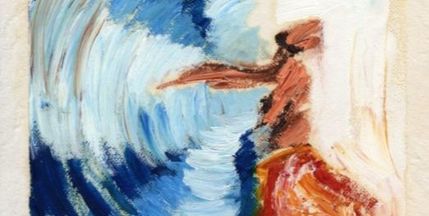 Hepa! - Brazilian
Hepa! exhuberantly visualizes the driving rhythmic pulse of Afro Brazilian dance, capoeira and percussion through animation and live action footage. The colorful animation is hand painted with oil paints on glass and captured on film frame by frame. The dancing is a mixture of Afro Brazilian contemporary dance and traditional Brazilian "Orisha" dances.
Directed by: Laura Margulies
Length: 6:29 Minutes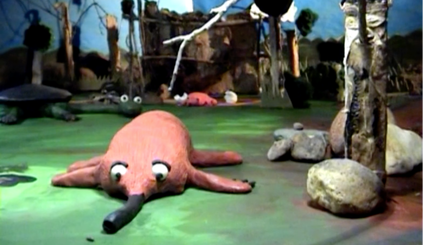 The Echida and the Turtle -
Kunwinjku
The "Echidna and the turtle" is a traditional dreamtime story of how the Echidna got her spines and the Turtle got her hard shell. This story belongs to the Kunwinjku people of western Arnhem land. This production was created by students from Gunbalanya Community School. The students from Namarrkon Class planned and created the animation. They designed and built the set and characters, then animated each scene. They
were involved in creating the narration, sound effects, and filming the documentary.
The film was created in a few weeks, and was one small part of a larger project looking at ways that digital technology can both influence attendance and literacy within the community school and create engaging cultural archive materials.
Created by: Gunbalanya Community & Gozer Media
Length: 7:03 Minutes
Hawai'i Premiere
---
---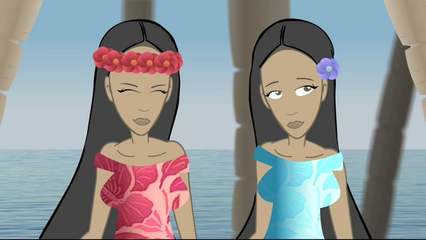 Tales from Nanumea: Pai & Vau - Tuvaluan
T
raditions say that the first people to be found on the island of Nanumea, Tuvalu, were two women, Pai and Vau. Tefolaha (a man whose true origins are debated to be either Samoan or Tongan) tricks the women, with the use of his spiritual prowess, into thinking that he was the true founder of the land.
Directed by: George Siosi Samuels
Length: 3:34 Minutes
​
Hawai'i Premiere
---
---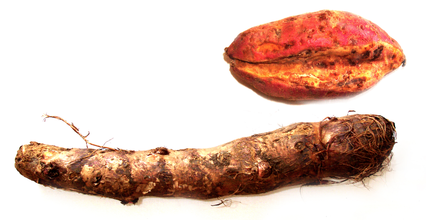 I am What I Yam - Aboriginal
Experimental Animation on Yams. From an art installation.
Animation by:
Jenny Fraser
Length: 2:24 Minutes

​
Hawai'i Premiere
---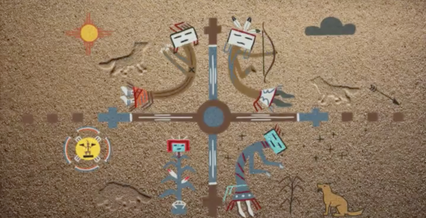 Wolf Dog Tales - Mexico
Wolf Dog Tales is an animated film that takes us through a series of stories inspired by ancient wisdoms of what animals teach us about respecting life and earth.
Directed by:
Bernadine Santistevan
Length: 6:40 Minutes

​
Hawai'i Premiere
​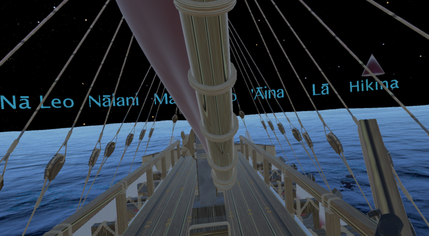 Kilo Hoku - Hawaiian
The Polynesian Voyaging Society (PVS) was founded in 1973 with the purpose of developing and sailing a Hawaiian double-hulled outrigger canoe, or waʻa kaulua, on the open ocean, using non-instrument navigation techniques known as wayfinding. In this practice, the navigator uses the orientation of the canoe against the stars in the sky to determine position on and to navigate across the ocean with nearly the same accuracy as modern navigational instruments. This practice is of cultural and historical significance to the Native Hawaiian population, whose ancestors practiced wayfinding for open-ocean voyaging. Our team prototyped a simulation in a virtual reality environment on the HTC Vive to attempt to aid in the learning and teaching of wayfinding. Users are able to sail the canoe, view stars and constellations, and use wayfinding techniques to navigate
Contributors: Patrick Karjala, Kari Noe, Anna Sikkink, Dean Lodes
Length: 2:07 Minutes
---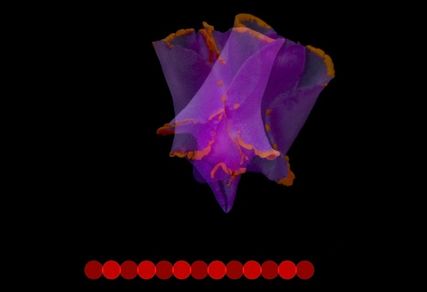 Bunurong - Aboriginal
""I chose to work with a National Park that has an Aboriginal name, and in this instance Bunurong is also the name of their local Traditional Owner group within the Kulin Nation. While I worked with the documented images to make the animation I was fascinated by the other-worldliness of the underwater life there, and I was please to work with those the striking colours, which we don't often see. My intention was to manifest an Aboriginal aesthetic in the work, to communicate old and new cultures across languages and other borders."
Animation by:
Jenny Fraser
Length: 1:11 Minutes

​
Hawai'i Premiere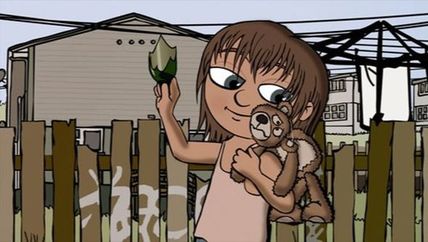 In the Rubbish Tin - Maori
Abandoned on her birthday morning, Pippa escapes into an imaginary world with her best friend Chubby.
Directed by: Riwia Brown
Length: 4:00 Minutes

​
Hawai'i Premiere
---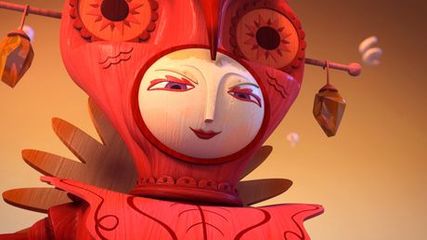 Pel
eda: Episode 1 and 2. -Based on Lithuanian Mythology.
Stunning animation and a fantastical setting of airborne islands, natural and mechanical marvels, nature spirits and alchemical power. Peleda's 10 episode story follows two unlikely sibling heroes embark on a quest to restore balance to their once-glorious homeland. However, Queen Giltine's evil influence has the power to divide even the closest relationships, including the sacred bond between brother and sister.
Episode 1 and 2 sets the epic story in motion with the arrival of the three sisters to the land of Peleda.
​Created, produced and directed by: Nathan & Luke Jurevicius
Length: 4:00 Minutes
Hawai'i Premiere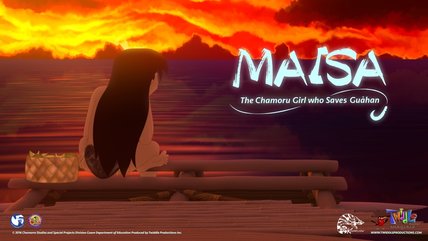 Maisa the Chamoru Girl who saves Gu
å
han - Chamoru
Based on a beloved classic Legend from the island of Guam, 'Maisa the Chamoru Girl who Saves Guåhan' tells the story of how a young Chamoru girl finds the strength, wisdom, and courage to lead the women of Guåhan (Guam) into battle against a giant creature from the Marianas trench that is devouring their island home.
'Maisa' is the first animated film to feature the endangered indigenous Chamorro language of Guam. For this film cultural and language experts from worked diligently on bringing the language back to its historical pre contact era. GDOE students participated in both the voice over and creation of key art for the production, while local actors and actresses worked side by side with Twiddle and Kahmeleon Productions in Guam for the filming of the live action segments."HITA: Maisa, the Chamoru Girl who Saves Guahan" is produced by Twiddle Productions Inc. in Honolulu, HI. In 2016 Maisa won best short film at the Pasifika Film Festival.
© 2015 Chamorro Studies and Special Projects Division Guam Department of Education. Produced by Twiddle Productions Inc.
This film is funded 100% Under the US Department of Education Consolidated Grant, Title V, Part A: Innovative Program GIHA
Directed by: Michael Q. Ceballos,
Executive Producers: Ty Robinson, Rufina Mendiola, Ronald T. Laguaña, Jimmy S. Teria, Michael Q. Ceballos
Length: 35:00 Minutes
---

Panel Discussion: Preserving Endangered Languages and Culture in Films and Animation
Panelists: Dr. Alex Mawyer,
Kenneth Gofigan Kuper,
Keoni Lee
​Moderator: Michael Q. Ceballos